Fruit Parfait For The Whole Family
This beautiful, festive, healthy, and delicious dessert will give you aesthetic pleasure of the process of its preparation. Apply your creativity, come up with new combinations, and decorate it to your taste. I am offering to your attention my variation.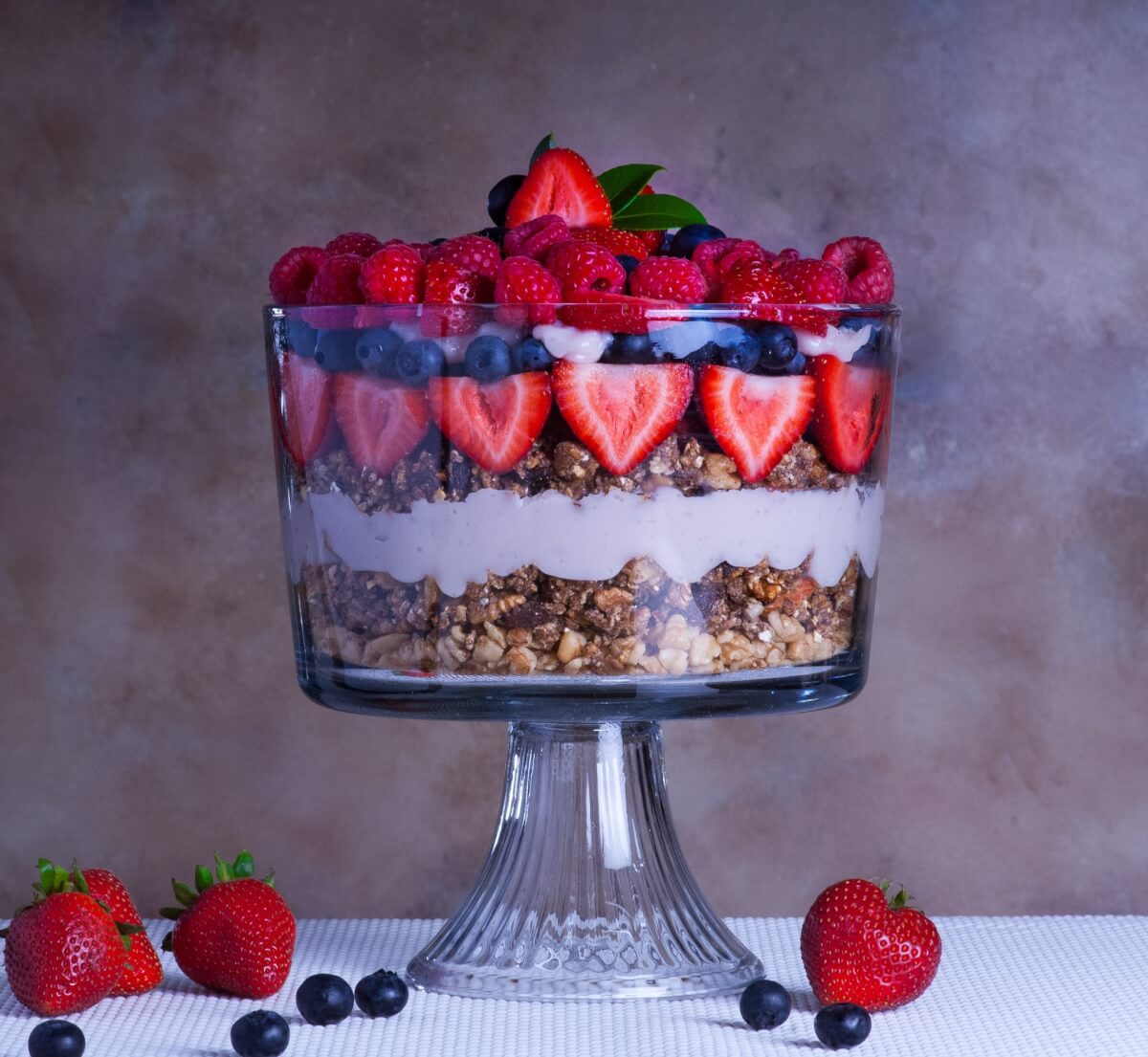 Bottom Layer (Granola):
The key to the preparation of the parfait is designing several different layers. As a basis, I make granola (see Oat Yogurt Recipe) and lay it out on the bottom of the parfait vase.
Second Layer (Lemon Pudding):
2 cups Soy or Almond Milk 
¼ cup maple or brown rice syrup
Grated zest of 1 lemon
1 tsp vanilla
Pinch of sea salt
2 Tbsp agar agar flakes
1 Tbsp kuzu dissolved in small amount of water
Third Layer (Berry Jelly):
2 packages of frozen berries
¼ cup starch kuzu, diluted in ½ cup cold water
1 tsp vanilla
Step by Step Instructions
Lay out first bottom layer of granola from referred to in the Ingredient list.
Second Layer:
Place all the ingredients, except kuzu, in a saucepan and cook, stirring, over low heat until comes to a boil, and then continue cooking until the agar is completely dissolved, for another 10 minutes. Stirring, pour in kuzu. Cook until the mixture thickens, about 3 minutes. Pour the hot mixture into a glass or porcelain dish and allow to cool and harden completely. You can put it in the fridge or freezer. Then whip this jelly with a mixer. Arrange the layer on top of the granola.
Top Layer:
Empty the berries into a small saucepan and set over medium heat. Gradually, berries will release juice and come to a boil. Stirring, thicken the liquid with diluted kuzu and add vanilla. Arrange the third layer in the vase on top of the second one. Decorate with fresh berries.