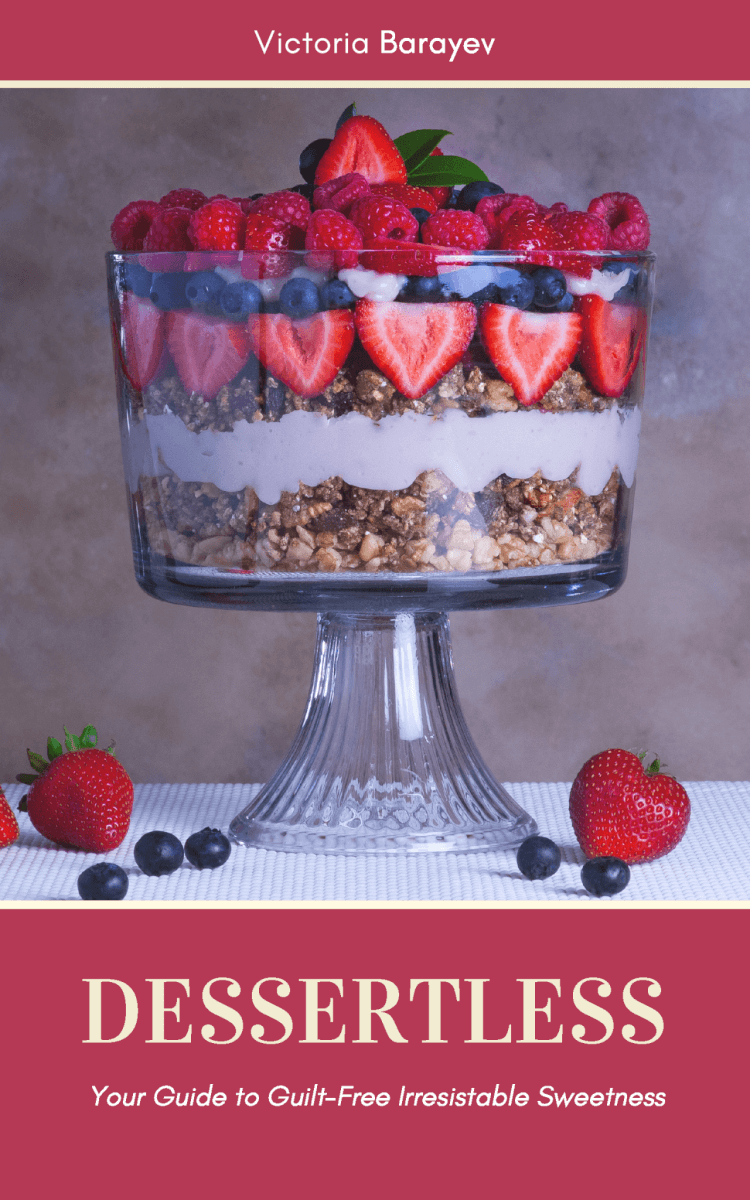 No need to stip away the joy in life! Cook your favorite desserts, in a guilt-free fashion, for the whole family!
Start simple with these very feasible and non intimidating recipes.
Description:
"If you look for sweetness, your search will be endless. You will never be satisfied. But if you seek the true taste, you will find what you are looking for." -Buddhist Axiom
Far too many of us experience sweet cravings often, finding ourselves scouring the kitchen for something sweet after each meal. Indeed, by nature's design, we are born with an attraction to sweet taste. Afterall, the first thing we taste is a mother's milk, which is sweet. In the oriental five transformations of energy, there are five flavors that when present in balance, create health; and the sweet taste is the most important. Naturally sweet! Our genetic makeup is designed to digest, metabolize, and use carbohydrates as the energy units that fuel us. If we, relying on protein as a source of energy, do not consume enough of whole grains, starchy vegetables and beans at each meal, we will inevitably start seeking simple sugar to make up for that deficiency. Excessive salt and fat in the diet will aggravate this imbalance even further.
As a society, we consume far too many sugars. In terms of glycemic index, even the most natural sugars are the same. It doesn't matter whether it is honey, fruit, fruit juice, maple syrup, organic cane juice, or molasses – your blood will react almost the same to most of these natural sugars. Of course, in honey there are useful minerals and antioxidants, and in fruit there are precious fibers, but your body's reaction to sugar will be the same. And when these sugars are combined with fats, you have the perfect formula for disaster!
You must be wondering, how do desserts fit into the healthy and healing cuisine? It is an indulgence. Yet, it can enhance a relaxing sense of balance between the demands of a healthy lifestyle and the sensual pleasure of eating. Learning how to make a few simple and satisfying desserts that will fit your healthy dietary regimen is an art. The desserts that fit my guidelines are free of dairy, eggs, processed sugars, added fats like butter or even oil, and almost never contain white flour. To accomplish this, you must be open to experimenting with new ingredients. At the end of this book, you will find an ingredient replacement chart and a list of the least familiar foods with their explanations.
Best of luck with your new cleaner and healthier sweet creations! Use these recipes to spark your imagination and create your own variations to satisfy any sweet tooth that comes your way!
"I have been loving this cookbook!! My absolutely favorite dessert recipes are made healthy and guilt free! Every recipe I have tried so far has turned out amazing!! Would definitely recommend this!"
"Bought this for my friend and she LOVES it. Nice, healthy dessert recipes which are hard to find these days! A must-have in anyone's library of cookbooks!"
Easy
These recipes are made for a wide range of cooks, whether you're a beginner or advanced, these are very easy recipes to follow.
Fast
The best thing about these recipes are that they are very fast to cook. Preparation times are kept to a minimum, knowing that most of you have a family and are most likely have busy lives.
Healthy
Each one of these recipes is designed to bring about proven results. We all strive for guilt free – which is exactly what is delivered to you in this book.